I have just finished this kid's play kitchen and put it on the market.
It started out looking like this.
I managed to find this old TV cabinet on Gumtree for FREE!
Although VCH wasn't too happy when we went to pick it up and discovered how heavy it was!
It took three men (I am including B2 as a man here) to get it onto the back of the ute.
It was quite fiddly to do and I had to rely on VCH to do all the hard parts, like cut out round bits for sinks and make the shelf after B3 sat on it and broke the original one! and put in taps and hinges etc- you get the picture!
It took a lot longer than I thought mainly because of the rain and our holiday and VCH building an outdoor kitchen and then having to wait until he got home from work to do certain things etc.
But now finally it is finished and hopefully it will sell quickly because I would like to move it out of my entertaining area to a new home rather than having to find somewhere else for it to live at my place until it is sold.
We are having a party Monday night so it will need to be moved before then!
We painted the whole of the inside white and made a fridge and freezer with little baskets on the doors.
Here we have a cooktop made of some ply, recycled from the original back, CD's painted matt black and knobs recycled from an old kid's kitchen and painted gloss black.
Above the cooktop is a little wooden plaque that VCH picked up at a garage sale one day while I was at market, I painted it with chalkboard paint and replaced the cup hooks with new ones, it's perfect for hanging some utensils off.
There is also a faux window to look out of with replaceable pictures.
The sink is a stainless steel bowl and can be removed in case a child fills it with water, the taps came from our second hand building centre and they can turn.
I have also added some battery operated lights and some more hooks.
One door became an oven with perspex in the door, the other door is for the cupboard.
Here you can see inside.
There is a shelf in the oven- I really wanted a wire rack/ shelf here but we were unable to find one the right size.
There is a rail for the tea towel to hang off in the cupboard
I almost wish I was a kid again so I could have one of these!
Edited to add, it has been sold, was delivered it to its new owner on Saturday!
Sharing at: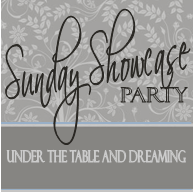 penny's vintage home