Today I took a look back in the archives and found something from right at the beginning of my blog.
Three years ago today this is what I posted about.
click on the photo to go the original post
I remember being very excited about these fabric buckets that I made,
they are still going strong three years later!
They live on a shelf in our lounge room and have the blocks, musical instruments and bean bags in them.
I really should make some more because they are so durable and handy!
Are you enjoying my trips down memory lane?
I will be back on Monday with photos of the cake and the 101st birthday party!
featured at: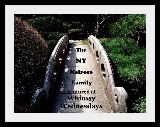 Sharing at: